Ladybirds and Biological Control in Belgium
Ladybird and biological control in Belgium, with a special focus on Harmonia axyridis - Brussels, Instituut voor Natuurbehoud, 27 November 2003
This workshop was dedicated to the use of native and exotic ladybird beetles in biological control of aphid populations. Potential problems raised by biological introductions were discussed as well as the need to develop a regulation framework and a risk assessment procedure before intentional release of exotic predators and parasitoids. Harmonia axyridis was used as a case study.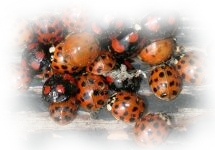 SESSION 1 - Ladybirds and biological control
Patrick De Clercq (RUG) - The potential of native insect predators for biological control
Fabrice Henry & Benoît Adam (Horpi Sytems) - Use and marketing of Adalia bipunctata to control aphid populations
SESSION 2 - Harmonia axyridis, a new invasive species in Belgium ?
Tim Adriaens (INBO) - Trends and distribution of Harmonia axyridis in Belgium
Louis Hautier (ULB) - Intraguild predation of Adalia bipunctata by Harmonia axyridis
Gilles San Martin (ULB) - Ladybirds in urban environment
SESSION 3 - Round table discussion
Patrick De Clercq (RUG) - Legal aspects linked to the introduction/sale of biocontrol agents
Etienne Branquart (BBPF) - Towards a quantitative ladybird survey in Belgium ?
Minutes and recommendations of the workshop

Additional information about Harmonia axyridis in Belgium (Harmonia information system)
> back to outputs